It's the most wonderful time of the year!!! You know, that time when you get the rolling of the eyes from your husband for booking another round of photos! Ha! Seriously though, these Christmas mini sessions will be fast & fun, and I look forward to getting some magical photos of your family having jolly Christmas fun together.

These sessions will take place in Larimore, North Dakota, at my residence (address will be sent out the day prior to your session). I have plenty of parking space, so please plan to arrive early enough to tweak outfits, bribe children, and apply your favorite lipstick. I'm hoping we get some balmy, winter days, but this is North Dakota—so think COLD. We'll be working quickly to ensure smiles over grimaces!

Here are the details:
-These sessions are 15 minutes each, (booked in 20 minute increments).
- Limited to groups of 6 (unless you have 5+ kids and then I will, of course, make an exception—please let me know when you book)
- Not recommended for extended families due to the swiftness of these sessions. If extended family is your wish, then I recommend purchasing 2 mini sessions back-to-back to insure enough time for everyone in the group.
Saturday, November 14th
1:00 -Booked
1:20-Booked
1:40-Booked
2:00-Booked
2:20-
2:40-
3:00-Booked
3:20-
3:40-Booked
4:00-Booked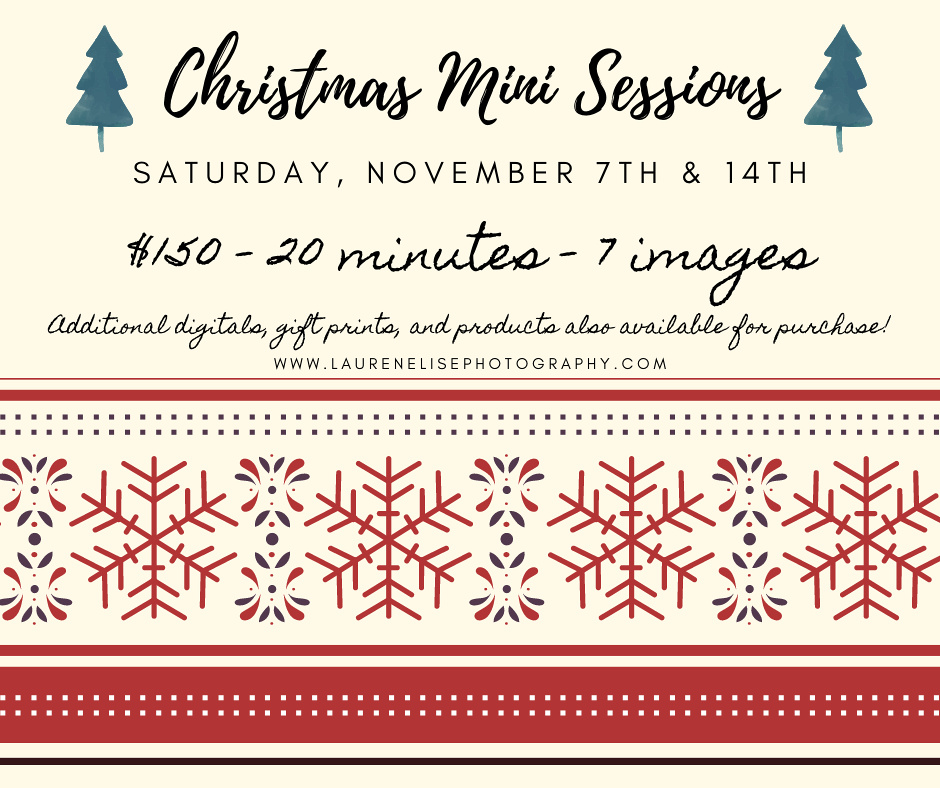 Also, professional prints and products make a HUGE difference when showcasing your beautiful images! Why not get your gifts for Grandma & Grandpa, Aunt Betty and Uncle Alan checked off the Christmas list with some amazing heirloom pieces? I will be offering gorgeous gift prints and heirloom products just in time for the Holiday Season! These items are add-ons, along with extra digital images. If you would like to know more about these products and gift ideas, let me know!

Also, to keep things festive, I'll be doing a drawing on each day of Mini Sessions for a *free, personalized photo ornament* - there will be 1 winner from each day!! Winners will be randomly chosen.

I'm super excited to work with new and returning clients again this year!! So whether or not you're a total merry Elf or grumpy Grinch, sign up today for your Christmas mini session—it's TRADITION!! Get a jump start on your Christmas cards and get some great photos and memories to cherish!

Thank you for all of your support, I look forward to taking your beautiful photos!

~Lauren